02 June, 07 – 23.14    
17.1624N,56.5956W
24 hr progress: 33.4 Nautical Miles (1 nm = 1.85 km)
Distance left to Antigua (straight line): 271 Nautical Miles ( 501 km)
Distance completed: 3102 NM (5738 km)
Wave height: 12-15 ft, Winds: 25 knots SE, Bearing: 280-310 degrees.

(ps. Yesterdays post was uploaded late. Please check yesterdays post for more).
A short post. Very tired.
Its been a tough 24 hrs. Sea state has worsened. Im still in the shipping lanes, and its difficult to keep a watch of the horizon in the swell. The radar alarm has been constantly on. I've been blown a further 16 miles North since yest. Not been able to concentrate on rowing as I've had to get on the VHF every half hour to communicate with ships in the area.
Here is my most recent weather update from Weather.com and the NOAA:
"The Atlantic hurricane season has begun with a big bang with Tropical Storm Barry forming in the southeast Gulf of Mexico. Maximum sustained winds are 45 mph with higher gusts. Heavy rain has already invaded the Florida Peninsula and rain will continue working its way northward tonight. Some areas may see 3 to 5 inches with locally higher amounts some low lying areas may see some flooding. All in all the rain is very good news for the Florida Peninsula, however. Some isolated tornadoes and waterspouts are possible around the Florida peninsula, however.
Tropical storm warnings are in effect for the western coast of Florida from Bonita Beach to Keaton Beach. A tropical storm watch is in effect from north of Keaton Beach to St. Marks. Marine interests in the eastern Gulf should keep track of the progress of Barry as wind gusts may exceed 60 mph in some locations.
About 140 miles southwest of the Mexico-Guatemala border is Tropical Storm Barbara in the eastern Pacific. Barbara is back to tropical storm strength and still heading eastward. Barbara will soon turn northward toward the Mexico-Guatemala border. A tropical storm warning has been issued from Barra De Tonala, Mexico, to Sipacate, Guatemala. A tropical storm watch is in effect from Barra De Tonala to Salina Cruz."
The weather to my West does not look too good. Hopefully, any low pressure system forming to my East will hold off for another week. Back to the oars...
B
Email: mail@bhavik.com
Confused by any of the nautical terms? Visit the Glossary: http://www.bhavik.com/crossatlantic/about_glossary.htm
Get automatic alerts each time news is updated: http://www.humanedgetech.com/expedition/bhavik/newsletter/index.php
Send me a short message via my webpage http://www.bhavik.com/crossatlantic/messages.asp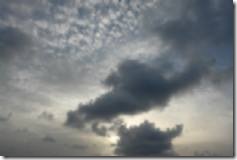 A few low rain clouds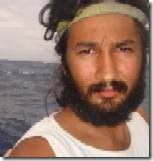 Hello!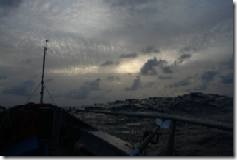 Night row